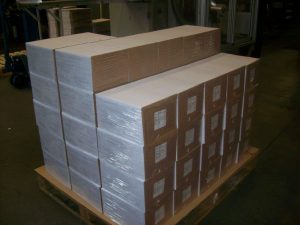 For most businesses storage space is valuable. PackMail packs are more compact then conventional cardboard boxes. Therefore, more envelopes in the same space allows approximately 30% more packs per pallet, maximizing storage space and allowing more envelopes to be shipped in every consignment, reducing the number of journeys, reduced emissions and a reduction in your impact on the environment.  
Imagine the typical journey of just one pallet. How many times is a pallet of finished envelopes handled before it is emptied at the mailing centre? Before PackMail, boxes of envelopes were loaded onto a pallet. That pallet is then moved to storage awaiting despatch. It is then removed from the stores and loaded onto a truck and shipped to the mailing centre.
When goods arrive at the mailing centre, pallets are unloaded, processed and placed in storage in the warehouse until needed. Then, as required each pallet is taken from storage and moved to the machine for inserting. After inserting, that empty pallet is then removed. Every activity takes time and resource to move – which although for many businesses is not a tangible or measured cost, it is no matter – a cost. Imagine now, how many pallets you handle and multiply that by how many times a pallet is handled. If you could reduce all of this by as much as 30% – 40%, would you convert to PackMail? Save materials, store more product or release valuable storage space for other products. Optimise your storage capability and move fewer pallets, saving time and energy.
Why not calculate the savings in packaging waste, storage and shipping by using our calculator. It will be different for everyone but this handy tool will help illustrate what it could mean for your business?