Reduce Waste by 60%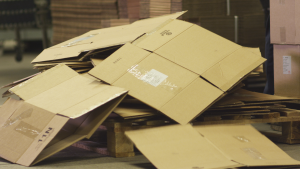 The majority of envelopes which leave envelope factories for mail production facilities for storage or insertion, are packaged in conventional cardboard boxes. To keep the envelopes in perfect condition for inserting, the box has to be of good enough quality and strength. So to reduce packaging cost and waste packaging – down-grading the quality is not good enough. So, how do we reduce cost, reduce waste and maintain (in fact, improve) the packaging for inserting machine envelopes.
Packmail does not require conventional cardboard boxes. It uses a rigid cardboard panels at each end of the box, no sides, no top or bottom. Just a small amount of film wrap to bind the pack together, holding the envelopes flat and tightly packed until ready to be loaded on to the inserting machine. That's 2 sides of cardboard instead of the conventional six. That's a saving of between 60%-65% of cardboard. Now that doesn't sound a lot – but add it up.
On average, 1 million envelopes uses approximately 900lbs of cardboard when using boxes, compared to PackMail which uses only 300lbs of cardboard and 50lbs of film wrapping. That's saving approximately 600lbs cardboard per 1 million envelopes. That means, less cardboard entering the factories of envelope producers and less cardboard being thrown away by mail inserting companies.
Imagine if what you ship or use is 10 million, 20 million, 100 million envelopes then, that is a huge amount of cardboard. All, of which requires cardboard boxes to be manually dismantled and either thrown away or sent for recycling, both of which and despite best good environmental intentions are activities that further impact our environment. When you consider that waste has to be transported, producing vehicle emissions or consumes valuable energy to re-pulp during recycling – then most would agree it is better to reduce rather than re-use. Also, consider that in many situations, cardboard boxes are sealed with non-recyclable tape – which is not useful and problematic for recycling.
Imagine how labour intensive it is for machine operators to break up cardboard boxes. Every box which is dismantled is more time wasted by people at inserting machines who could be doing something else, like extra quality checks on the mail being produced or loading insert feeders. If you are mailing millions of envelopes, then imagine how many boxes have to be needlessly and manually broken down by machine operators.     
For more information, then watch our videos featured on our website at packmailltd.com
Also, why not check what you could save. Contact us and we'll help you with some illustrations of indicative savings.