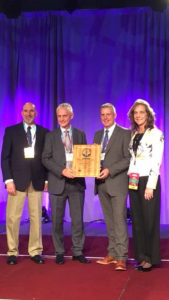 The FTA (Flexographic Technical Association) held their annual awards to celebrate achievements in flexographic print quality in many industries and categories. The envelope industry is just one such industry. Over the last couple of years, Heritage Envelopes have continued to develop Packmail, introducing this format to increasing numbers of customers.
Heritage Envelopes were nominated for the Award for Sustainable Excellence over the last two years and this year, taking 1st place in 2018, improving on an Honourable Mention in 2017. Pictured receiving the award are Mark Sears (CEO) and Tommy Cathie (Production Director) at the Blackburn plant.
It is hoped that recognition by the FTA on a global level will demonstrate the importance and advantages Packmail offers the mailing industry and this award will encourage mail inserting companies to adopt Packmail as the format of choice. The reasons are quite simple. Packmail will reduce the needless waste of cardboard packaging. Furthermore, the tangible benefits of Packmail are far-reaching because mailing companies who use Packmail, reap the benefits of reduced handling, optimised storage and transportation, improved mailing efficiency and output, supported by reduced inserting machine downtime. All of this is not only good for the environment but it translates to real operational cost savings for mailing companies – help which is welcomed by all mailing companies in what is a financially challenging industry.
Heritage Envelopes continues to expand Packmail production and the transition of a greater proportion of the factory's mailing envelope production to the Packmail format. In fact, as one of the largest producers of envelopes in the UK, currently, half of the company's output of inserting envelopes is now Packmail.
If you want to learn more about how Packmail will benefit your company – then please register your interest with us and we will gladly talk you through the savings.