What is PackMail?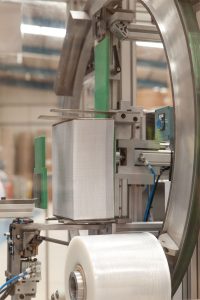 PackMail is wrapped as part of the manufacturing process. The specially designed and patented Packmail wrapping machine is a separate unit which means it can be moved between envelope machines.
Envelopes are loaded into the wrapper by the machine operator, envelopes are clamped between cardboard end panels and a rotary applicator wraps a small amount of film wrap around the stack. This produces a tight and compact unit which is then loaded onto the pallet just like any regular boxed envelopes.
Packmail can reduce your use of packaging materials, increase your storage capacity and optimise your transportation.
Packmail is produced only under licence so if you manufacture envelopes and are looking for an advantage over your competitors or perhaps you are just looking to see what you can do to offer your customers improvements within their own businesses then contact us at Packmail Ltd. 
To see the machine in operation please watch our video.