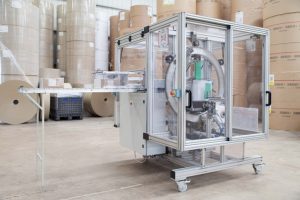 The unique PackMail format is packaging for inserting machine envelopes but instead of using conventional cardboard boxes, the envelopes are compressed between two cardboard end panels and whilst held in position by two metal plates, a cardboard end panel is applied to each end of the pack. Then a narrow band of film wrap is applied using the unique rotary wrapping unit.
As described, the packs are compressed which means a finished standard PackMail pack is similar size as a pack of 500 envelopes supplied in conventional cardboard boxes. Therefore, more envelopes in the same space allows approximately 30% more packs per pallet, maximizing storage space and allowing more envelopes to be shipped in every consignment, reducing the number of journeys, reduced emissions and a reduction in your impact on the environment.  
The machine is fully guarded for safety during operation. Furthermore, the unit is mobile which means it can be placed at the end of whichever envelope making machine is producing the Autoflat envelopes in the factory.  
By packaging envelopes in the Packmail format, every pack produced used more than 60% less cardboard. Imagine the total number of boxes used and despatched from the factory floor and this amounts to a significant amount of cardboard, handling, storage and shipping.
The PackMail format and the machine have been developed and engineered under a registered patent and therefore can be acquired only from PackMail Limited.
For more information you can visit packmailltd.com and read more about PackMail machines and how to contact us if you need a wrapping machine for your factory.